The SafetivityTM Distancing Vehicle Shield reduces the transfer of droplets and minimizes airflow between the driver and passenger zones in a vehicle
**Volume discounts available**
US Patent Pending and Canada Patent Pending.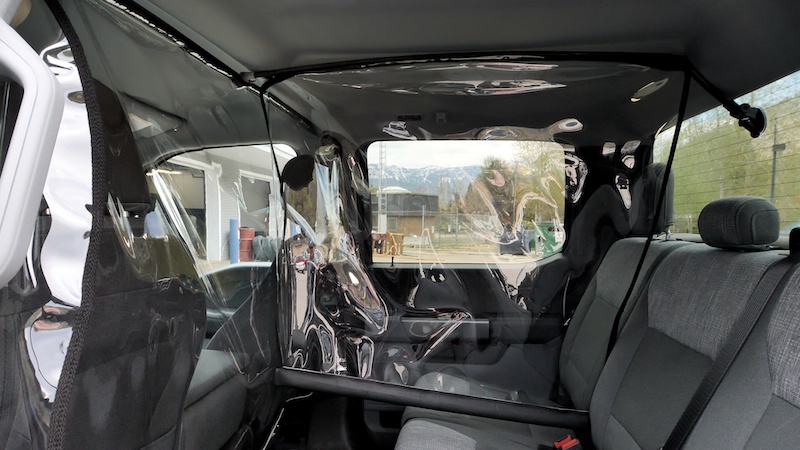 SAFETY FIRST
Provides safety and protection to workers, to the highest practicable level, reducing exposure from saliva, droplets, splash and dust.

Peace of Mind
Keeps workers on the job and allows other employees to go back to work. Workers are safe, families are safe, businesses are safe. 

Saves Money
Reduces fuel and maintenance costs as well as maintains productivity and efficiency allowing four individuals per truck.
The SafetivityTM Distancing Vehicle Shield keeps workers and business safe.
The SafetivityTM Distancing Vehicle Shield minimizes risk in confined spaces.
The SafetivityTM Distancing Vehicle Shield is a patent-pending solution to help all companies keep workers on the job, put other workers back to work, and provide freedom of commerce to all businesses. The SafetivityTM Distancing Vehicle shield meets all PPE guidelines and allows for multiple vehicle applications including taxis, buses/transit, and golf carts.
Benefits for drivers and businesses
It offers protection to individuals not living in the same household
Eases people's health and social distancing concerns
It will not hinder normal function of side airbag deployment
Engineered rib and clip connection to enable fast and easy setup
SafetivityTM Distancing Vehicle shield is clear and durable
Allows clear visibility of all windows and mirrors.
Allows the driver and passengers to clearly hear and see each other
Shields can be easily sanitized
Maintains transparency, even with regular cleaning
Environmental
Helps minimize C02 emissions by allowing multiple passengers
May qualify for certain rebates or carbon-offset credits
designed with drivers & safety in mind
Still have questions? Looking to purchase in bulk?
Contact us for a quote or to place an order.